Share this URL: https://samma2018.peatix.com/
Event is FINISHED
SAMMA DISCO 2 @ Koenji DeLive
平成最後の秋は、サンマとディスコで決まりでしょ。
なんと今年は、ビルをまるまるジャックします。
--
みなさん、おひさしぶりです。今年もこの季節がやってまいりました。
まるまる太ったサンマの塩焼き、プロの板前によるブリの解体ショー、シェフによる気の利いたつまみ。そして、輪をかけて会場を盛り上げるは、DJたちのご機嫌なディスコ・チューン。今回は、カルチャースポットのど真ん中、高円寺での開催が決定です!
会場は高円寺の中心に位置するスタジオDeLive。テラス、バンドスタジオ、マルチスタジオ、BAR、ダンススタジオを持つこのビルをまるまるジャック。もはやこの日は"SAMMA DISCO BUILDING"。フロアを変えれば違うコンテンツに出会える、さながらディスコの遊園地を仕込み中。
一生に一度の平成最後の秋を飾る最高のホームパーティー。参加しそこねたら後日、インスタのストーリーを見て後悔することになるのでお気をつけて。
It's this time of the year- Fall!
And ya'll know what that means, it's time for some sizzling fatty SAMMA and funky disco tunes!
This year we are taking over a 4 story music/dance studio building in Koenji. DJs, Live bands, and more; different tunes for different floors, come enjoy our "SAMMA DISCO BUILDING"!
As always, we'll be serving freshly grilled samma, along with other fall delicacies, like a big fat whole yellow tail tuna served by a professional sushi chef!
Get your tickets for this legendary house party before it's sold out!
(samma: Japanese Mackerel Pike, an autumn delicacy)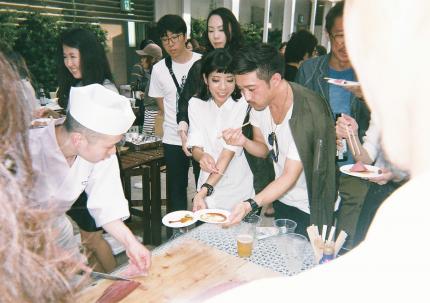 Read more
Updates
イベント詳細情報を更新しました。 Diff#373312

2018-09-26 07:44:54
More updates
Sun

Oct 14, 2018
12:00 PM
-
10:00 PM
JST
Add to Calendar
Venue

高円寺DeLIVE
Tickets
Venue Address
Organizer